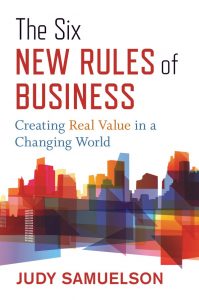 Judy Samuelson is founder and executive director of the Aspen Institute's Business and Society Program and author of Six New Rules of Business: Creating Real Value in a Changing World (Berrett-Koehler, 2021).  Signature programs under Judy's leadership include a ten-year campaign to disrupt Milton Friedman's narrative about corporate purpose, the Aspen Principles of Long-Term Value Creation, and a partnership with Korn Ferry to rethink executive pay. She previously worked in legislative affairs in California and banking in New York's garment center and ran the Ford Foundation's office of program-related investments. Samuelson blogs for Quartz at Work and is a Bellagio Fellow and a director of the Financial Health Network.
---
Day 1: Oct 13, 2021
Afternoon Keynote: RESPONSIBLE INVESTING
The Business of Investing: How Responsible Businesses Will Drive Profits and Align with Investors' Missions
There has been a shift in the attitudes and mindset of some business leaders over the past several years, redefining our notions of what constitutes business success. As investors, you have a role to play in furthering these changes while adding to your own bottom lines. Optimize your investment strategies by:
Prioritizing investments that drive value through intangibles, such as reputation, trust, and mission
Rewarding forward thinking organizations that put purpose over profits, and that look beyond shareholder value
Building a portfolio dense in responsible corporations, where responsibility includes the full spectrum of ESG
Avoiding blind spots in your strategy and thinking about investment
Create an investing blueprint that influences business decisions to align with your mission and the betterment of humanity.
Day 2: Oct 14, 2021